Welcome to the world of Farmwand!
Farmwand is a farming and exploration game with open-world and RPG elements set in a unique magical world full of charming and memorable characters, incredible creatures and countless mysteries.

The World of Farmwand
Fresh out of the Southern Wizarding Academy and finally ready to face the world, you build your own wand, prepare your robes and reach the land where you'll settle. Some potatoes here, a few mushrooms there… some chickens maybe? A cat for sure... the necessary ingredients for a potion or two and the broom of course… it's time to make this new land your home!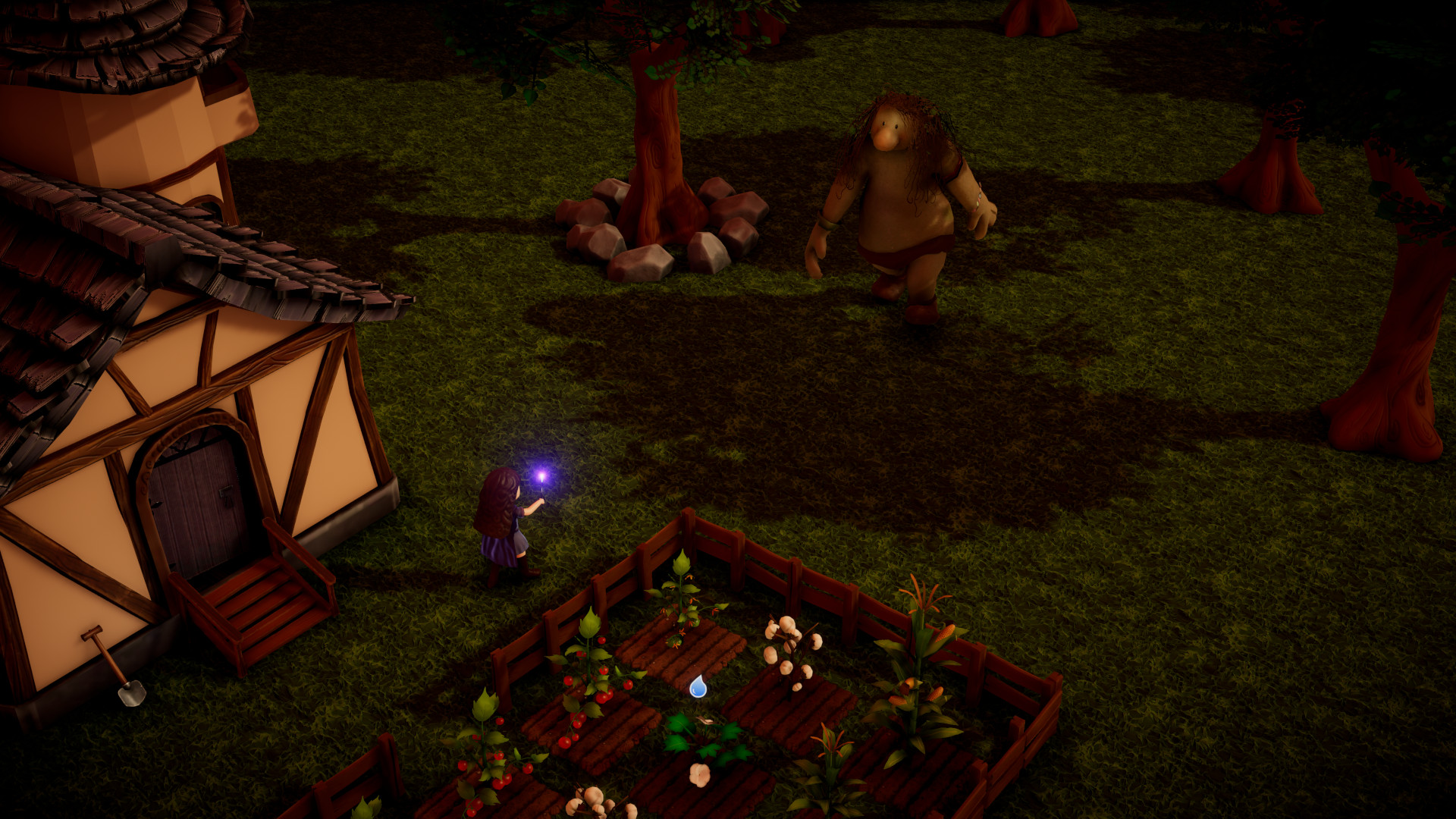 The world of Farmwand is a rich land inspired by classical fairy tales full of enchanted forests, potions brewing under the moonlight, towns buzzing with merchants and travelers, magical creatures both friendly and hostile, as well as mysteries to uncover under every rock and around every corner.
A living world where most characters have stories to tell and your actions can change the way everyone interacts with you. Will you become best friends with the people in town, being a force of good and kindness? Or will you be a master of mischief, the source of all sorts of scary tales parents tell to their kids at night? The choice is yours to make!
Features
Unique storybook art style full of adorable animals, spooky ghosts and unforgettable landscapes to explore.
Dozens of crops and plants to raise from seed to harvest, from the common potato to the elusive Wandering Zinnia, with a deep and rewarding magically enhanced farming system that allows for endless surprises.
All sorts of creatures, magical and non-magical to raise and care for in your farm. Some of them can even be kept as companions for your adventure, to help you and protect you in your travels. Cats, dogs, ravens, wolves...and many many more! And yes, you can pet them.
Dozens of spells and potions to discover and master over the course of your adventure, to use in inventive ways to solve puzzles, help (or annoy) the people in town and even mix them for unexpected results.
Fly away on your very own, customizable broom. Use it to travel to far away places or to carry some heavy loads…but careful! They need to rest too!
Take a break from chores and go exploring deep into the enchanted forest, across the river into the mountains, unlock new locations, discover hidden secrets in lost, ancient ruins and learn new arcane magic. You never know where the treasure awaits.
Gather resources and build new furniture, more efficient tools, powerful weapons and so much more. Maybe bring them to the market, get a good bargain!
Meet the people in town. Listen to their stories, help them in their quests and make some friends (or rivals) along the way.
A living world with its own culture, traditions, festivals and history to explore and take part of as the newest resident in town.
Want some help and company in the new place ? Connect with your friends or family to water your crops or fight monsters together either in local co-op or over a LAN!

The game is in active development, which you can follow on our Dev Logs section and on IndieDB!